BEST OF THE MED MEETS THE BARRIER REEF IN OPULENT ISLAND MANOR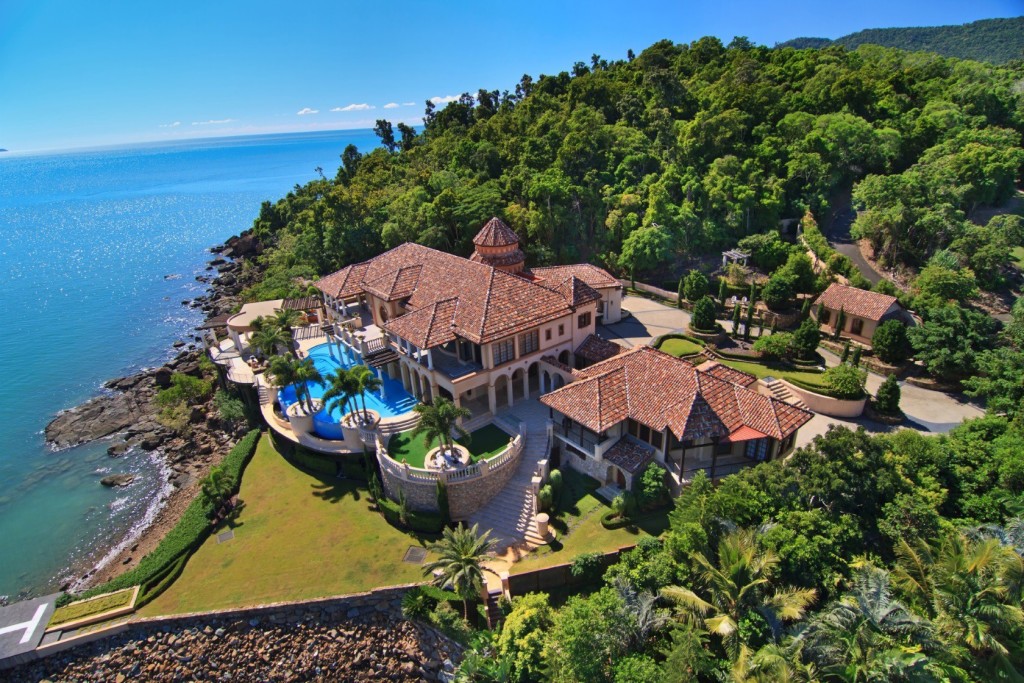 Inspired by the ageless grandeur of seaside properties in Nice and Monte Carlo, the king-sized Mandalay House is a spectacular paradise with warmth and welcome.
It is no longer possible to build a residence with a private oceanfront marina in Australia and finding private beachfront upon a high watermark with no public access, anywhere in the world, is impossible.
At Mandalay House a vast infinity pool stretches from house to shore, in a never-ending floorway of azure and turquoise as far as the horizon, in an utterly private utopia that instantly transforms body and soul.
The three-and-a-half year labour of love build strikes a definite pose at the edge a delicate and jaw-droppingly beautiful peninsula, surrounded by National Park.
When the morning sun shimmers over the 2,650sqm prestige residence and its uninterrupted sightlines of the Coral Sea, the architect designed home comes into its own, in complete harmony with the majestic Whitsunday Islands.
The timeless property has been built in the tradition of the centuries-old grand homes of Europe with bespoke features, exquisite details and decor, and most importantly, finishes crafted with a patina that ensure the whole creation ages with beauty and grace.
High quality artisans and materials, sourced from Australia and overseas, established a perfect frame for the extensively travelled owners to create their ideal living artwork and draw direct inspiration from various Mediterranean luxury hotspots.
The rich sequence of increasingly opulent interiors reflects the owner's love of the Baroque period with most of the antiquities originating from collections all over the world.
Prestige Properties Associate with Gold Coast Sotheby's International Realty Carol Carter said that the home was simply on another level of lavish.
"The owners and their architect spent years getting it exactly right and a Mediterranean outlook works beautifully well with our sub-tropical climate in the stunning Whitsundays," Ms Carter said.
"Aesthetically the property excels at the 'views within the views' with every vista as if you're looking through a picture frame with every detail catering to that magnificent unobstructed horizon line from every angle.
"To have this level of luxury with absolute privacy, including a private marina and private beach like this, is increasingly hard to find anywhere in the world and in extremely high demand," she said.
The 4,241sqm northwest facing block backing on to a national park hosts the six bedroom, nine-bathroom mansion and includes a five-car garage, large, separate timber-lined office with PA or secretarial space.
A generous shared marble-tiled balcony runs the length of the building making the most of the magical seascape and islands beyond, incorporating an enormous master bedroom suite, which enjoys a view-drenched private sitting area and 52m2 dressing room, and complemented by another five king size bedrooms, all with individual ensuites.
Entertaining guests is a high level pleasure as they arrive and enter the magnificent hall with spiral staircase and feature windows looking out over the glorious bay and ocean views.
A private lift or stairway takes you down to the stone-walled colonnade and leads to a climate-controlled cellar with dining for 12, private cinema, gymnasium and pool room.
The state of the art kitchen with adjoining casual dining, butler's pantry and walk-in cold room also enables flawless catering in the formal dining room for 12.
Outdoor entertainment options are magical at the oceanfront pavilion, with its built in commercial BBQ and wood fired pizza ovens, where you can dine with guests while watching the whales on their northern migration, complete with gentle ocean waves lapping beneath the pavilion on high tide.
Legend has it that an open chequebook facilitated the opulence of Mandalay House as the architect Andrew Simpson and his wife, interior designer Denise Simpson - specialists in Mediterranean style resort architecture – worked alongside the owners' specific Porto Fino inspired brief.
Property developer and motor yacht importer Neil Murray said that they could have stayed in the utopia forever but that family and other commitments had called them further south and that after 10 beautiful years it was time for another family to love and live in Mandalay House.
"It's easy to build a big house, but to build a home, for the generations, and to do it at a high water mark in the Great Barrier Marine Park will simply never be approved again," Mr Simpson said.
"It has been a much loved and very precious home that we love to death and can't stand seeing it not being enjoyed and it would be lovely to see a new family who will embrace this incredibly special place.
"It's been built with longevity and with a construction and design that will age beautifully in hundreds of years to come, as have the amazingly beautiful properties in Europe that inspired us," he said.
Mandalay is environmentally comfortable with multi-zone air conditioning, C-Bus and monitored security with CCTV technology and 24-hour recording.

Other external ocean-side features that are ideal for guests include a private 22.5m marina berth surrounded by rock wall, two jet ski docks and a generously proportioned boat shed.

The helipad facilitates the fleetingly beautiful 10-minute helicopter flight to Hamilton Island and its airport with world class resorts, golf, fine dining, shopping and 6-star resorts just a short pleasure trip away.
The long-term caretaker, who lives a few kilometres offsite and has tended every aspect of Mandalay House with a heartfelt devotion, is available to remain and the extra staff cottage could comfortably accommodate housekeeping, secretarial or childcare staff
Parties interested in further information about Mandalay House can contact Carol Carter on +61 414 760 305, or carol.carter@qldsothebysrealty.com
---
Share This Release
---
Archived Releases
Tags