Christopher Skase's ex-Brisbane mansion hits market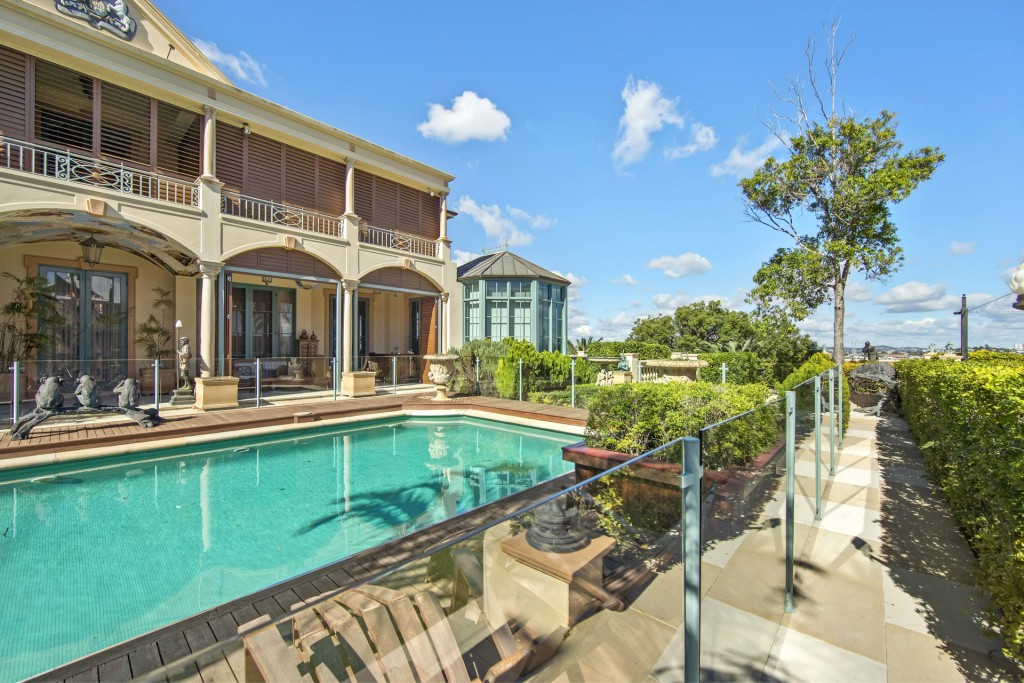 Opulence and decadence … the '80s were a time for both if you had the flamboyant wealth of Australia's richest men.
Christopher Skase was one such man and he put those abundant funds to good use creating a Great Gatsby-style palatial estate in the heart of Queensland's blue-chip suburb of Hamilton.
Skase, and wife Pixie, amalgamated nine lots to create Bromley, an opulent estate, which makes an extravagant statement on Hamilton Hill with views stretching over the Brisbane River to the CBD.
The property is now on the market for expressions of interest and Queensland Sotheby's International Realty Ascot Principal Stephen Weber believes it is good buying for a visionary who can see the opportunity it represents.
"It is the most elite residence on the market in Queensland," Mr Weber said.
"And it represents an extraordinary era in Australian history; a decadent period in Queensland's past.
"This is very much Queensland's trophy home and Sotheby's is looking for a visionary, like Christopher Skase who, let's face it, built some amazing developments in the late '80s, to update it and bring it to its former grandeur."
The 2759sq m estate was constructed in 1988 and exudes abundance and excess.
The nine-bedroom, nine-bathroom mansion is surrounded by an immense 12m-high boundary made of 1m-thick concrete and reinforced with steel for utter privacy and security.
Mr Weber described the amazing grounds, which include a large pool, cabana, flood-lit tennis court, ponds, fountains, waterways, terraces and raised gardens, as "amazing and irreplaceable".
European influences abound with the inclusion of a medieval circular staircase and 15m internal bell tower, alongside palace-style décor fit for the kings and queens of the money market.
An eight-person lift arrives on the three floors to reveal a self-contained housekeeper's quarters, children's wing, glass conservatory with extraordinary views to Brisbane city, a gymnasium, wine cellar with tasting room, a 15-seat home theatre, private office with a bar and garaging for eight vehicles.
Hand-painted mural walls, niches and alcoves combine to provide an added sense of palatial grandness.
There is a formal lounge in which to retire after feasting in the grand dining room on a meal prepared in the spacious marble and granite kitchen, comprising a walk-in cold room and commercial-grade appliances.
The master retreat has an extravagant dressing room and en suite and the billiard room, rich timber wall panelling and ducted airconditioning.
"To replace this property would be cost prohibitive," Mr Weber said.
"To rebuild a property of this calibre wouldn't be feasible or possible.
"We all understand that everything is about location, location, location and this is one of the largest land allotments on Hamilton Hill, which is Queensland's most blue-chip location."
He said the property had even been approved by a Feng Shui grand master for the current vendors.
He described the estate as a blank canvas which would "no doubt be Brisbane's finest home once brought into 21st century living" by the new owners.
"I believe it will exceed the latest highest sale in Queensland of $25 million," he said.
"We're looking for someone who can see the opportunity and good buying from this property. You couldn't amalgamate a site like this again – it's a rare opportunity.
"And depending on your needs you could leave it as a luxury residence, or it could be remodelled into a consulate, a boutique hotel or an exclusive club, subject to council approval."
He said if Bromley was situation in blue chip areas of Sydney or Melbourne, such as Point Piper or Toorak, it would be one of Australia's most expensive estates.
"For Brisbane, it's relatively good buying for a visionary that can see an opportunity."
Queensland Sotheby's International Realty has been engaged to leverage its overseas contacts and connect to a global database of buyers and Mr Weber said he expected interest from international buyers, including ex-pats.
Mr Weber is marketing the property alongside Sotheby's Malcolm Li Head of Asian Markets, who will target the Asian market.
---
Share This Release
---
Archived Releases
Tags